Meet the stunning Izzy S and see 33 of her hottest Instagram pictures
Here at Man On, we pride ourselves on two particular things: keeping glamour modelling alive and well in this bizarre world we find ourselves living in, and helping you get to know the models in front of the camera lens.
With this in mind, we are delighted to publish the gorgeous Izzy S' debut appearance on this fine website.
The stunning 21-year-old Londoner has a burgeoning presence on Instagram, racking up almost 6,000 followers since January 2018. Something tells us that number is going to shoot up substantially very shortly indeed…
Before we share 33 of her sexiest posts (to be perfectly honest, we could've shared every single photo on her account but that wouldn't have been too kind on your phone's data allowance), here's a quick-fire Q&A with Izzy…
How long have you been modelling for?
I started when I was 18, so it's been three years now. That time has flown by!
Do you have any other jobs?
I do freelance make-up artistry, but I also work part-time at an airport.
No wonder that time has flown by! How did you find yourself working at an airport?
I love flying and it's my dream to train to be a pilot. I would love to be the first ever model pilot!
What do you love doing in your spare time?
I love being outdoors and just getting up to crazy, spontaneous, last-minute things. Unplanned days and nights always end up being the most fun, don't they? I also go to the gym, paint and work on mood boards to get inspired for my upcoming shoots. I just love working and keeping busy.
As you can see from Izzy's finest 33 pictures and video below, all that time spent on mood boards over the years have most definitely paid off!
Make sure you give Izzy a follow on Instagram! Who knows? Maybe we'll see Izzy in the cockpit for her next shoot!
New to Man On? Make sure you're following us using the links below for the latest model news, pictures and video…
Instagram
Twitter
Facebook
Love Island: India Reynolds' 30 sexiest Instagram pictures and videos
She's the new girl everyone's talking about.
On Tuesday 16 July, India Reynolds waltzed into Love Island as the villa's hot new arrival. As we can see by the housemates' reactions, things are about to get very interesting indeed.
After all, this is a lads' mag legend and born again vegan chef who once complied a feature on her 69 top sex tips for ZOO. Oh, and she also happens to have an absolutely smoking Instagram page.
We've delved through the photo reel to bring you the 30 sexiest pictures and videos so you can get to know her that little bit better.
She's India. She's hot. She probably cooks up a mean Madras, too…
Whoever said Love Island was boring this year?!
New to Man On? Make sure you're following us using the links below for the latest model news, pictures and video – including India Reynolds' 69 sex tips coming soon!
Instagram
Twitter
Facebook
Five reasons you need to follow Keeley Hazell on Instagram
The name Keeley Hazell is forever etched in the minds of any glamour fan.
And quite rightly, too. The Londoner shot to fame back back in December 2004 when, at the age of 18, she won The Sun's Page 3 Idol competition. She became a modelling sensation overnight, dominating the covers of magazines such as FHM, ZOO, Nuts, Loaded and Maxim for years to come, all while continuing to regularly star on Page 3.
Oh, and you can also count multiple bestselling calendars and no fewer than six top 10 finishes in FHM's 100 Sexiest lists (including two second placed finished in 2006 and 2007) to her successes as well. It's little wonder just the name "Keeley" became so instantly recognisable.
Then, in the late 2000s, Keeley largely gave up modelling to pursue her dream of becoming an actress and has gone on to appear in films such as Venus and the Sun, St George's Day, Horrible Bosses 2 and TV drama The Royals.
She's since moved to America – taking up dual citizenship earlier this year – but still keeps fans updated via her popular Instagram page.
And it's that very page we're here to talk about. Her profile, which is currently teetering on the edge of 100,000 followers, is truly an essential follow for a variety of very worthy reasons. If you needed any convincing to tap that "follow" button, here's why you should…
1) Her throwback pictures are truly immense
2) Her love of puns and wordplay is excellent
3) She loves the great outdoors
4) She provides us with gym motivation
5) Well, she's simply stunning, of course!
You'll help Keeley hit 100,000 followers in no time, right?
Man On is aiming to be your new home for glamour model news and features. Help us spread the word by following our social media pages: Instagram / Facebook / Twitter. Thanks for your support!
Darts walk-on girls Daniella Allfree and Charlotte Wood talk fans' support and their 2019 calendar
It's fair to say it wasn't the happiest of new years for darts walk-on girls Daniella Allfree and Charlotte Wood.
Back in January, the hugely popular duo found themselves front and centre of a political correctness storm when the PDC took the decision to axe walk-on girls accompanying players up to the oche from all their televised tournaments.
Suddenly both Daniella and Charlotte found themselves on the front pages and in front of the This Morning cameras, as they fought against a decision which still proves wildly unpopular with all darts fans. Similar decisions were made elsewhere too, with Formula One announcing their dropping of grid girls for the new season.
Despite Daniella and Charlotte being stripped of their live TV duties, both still appear on darts' exhibition circuit and have gone on to have a fantastic year. Now, some nine months on from their controversial January, the duo have released their 2019 calendar.
We caught up with them in an exclusive Man On interview, where they discussed missing the live tour fun, darts fans' ongoing support, going for a spot of fishing and why you need to check out their sexiest calendar yet…
Hello, ladies! It's been a bit of a crazy year with the whole walk-on girl outrage at the start of the year. Will you be glad to see the back of 2018 for that reason?
Charlotte: It's been an eventful year, but as they say: when one door closes another one opens.
Daniella: Although it's sad we are no longer PDC walk-on girls, we have still had a very successful year and we have been overwhelmed by the support from everyone.
How much do you miss the touring PDC fun?
C: It sounds cliché but of course we miss our darts family! It was our life for so long.
D: The darts was a massive part of our lives, so we definitely miss touring with the darts circuit. As each 2018 tournament came round, we really missed being a part of it.
You've previously said some players admit they now feel lonely walking on stage on their own. Have you considered giving them cardboard cutout versions of you both to walk up with?
C: Ha ha, what a fantastic idea!
D: That would be brilliant!
If the PDC had a change of heart and brought back walk-ons, would you answer the call?
Both: Although it would be lovely, we really can't see the decision being revoked. Which is a shame as we would've loved to continue doing the job!
How happy are fans to see you on exhibition matches?
C: It's so nice that we still get to be a part of the darts and see the fans at the exhibitions, even if it's not on TV!
D: We love our darts fans! They have been nothing but supportive since the walk-on ban, so it's great we are still on the exhibition circuit.
You went fishing in the summer – how did you find that?
D: I enjoy fishing, it's such a brilliant event. And it's great to see everyone from the world of sport [at the PDC fishing day]. Charlotte and I did really well this year – we will hopefully be there next year too!
You look amazing as ever together in the new calendar. How fun was it to shoot?
C: It was so much fun! We wanted it to be a bright, sunny calendar and luckily the sun came out for us the day we shot it.
D: It was a beautiful day and we are so pleased with the results.
Where was the calendar shot?
C: We shot it at Rutland Water Nature Reserve in Leicestershire. It really was a beautiful location.
What are your hopes and wishes for 2019?
Both: We hope to have another successful and busy 2019. And who knows – maybe another calendar!
And on that note, give us one reason we should order your calendar this very second?
C: Just look at the pictures from it on here. Need I say more?! Ha ha!
D: If you miss seeing us on the TV, there's 12 full months of us for you to enjoy!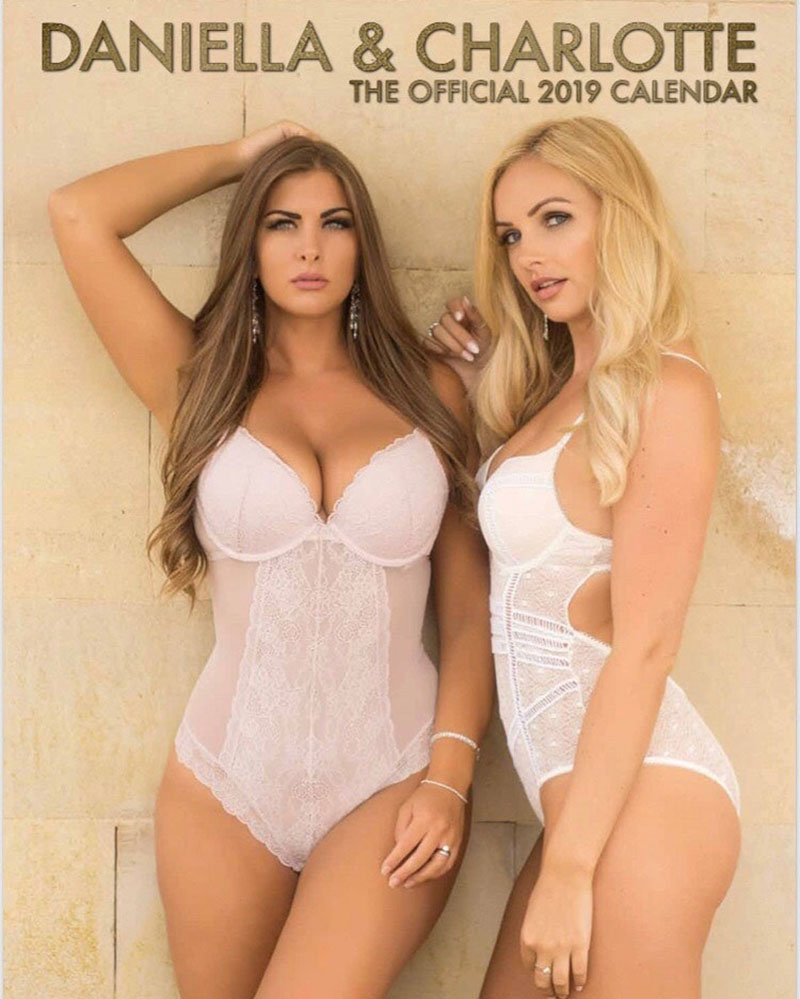 Man On is standing up for glamour models and their fans – but we need your support to help us! Tap below to open our social media pages and hit the like/follow buttons: