If the seemingly never-ending coronavirus lockdown is getting you down, we've got the perfect thing to cheer you up. Or rather, the perfect girl!
For the past few years, social media superstar Sascha McGee has lit up countless timelines with her ludicrously sexy pictures and videos. In doing so she's racked up a huge fanbase – but she has no plans to let up now.
Sascha has recently launched new fan platform Frisk, which provides direct access to the hottest real girls around – not least herself and her jaw-dropping fresh content.
So we thought it was time for a catch up with the artist formerly known as "Tits McGee" to find out more about Frisk, spending lockdown in the buff, and the golden era of boobs in newspapers…
Sascha McGee fact file
Name: Sascha McGee
Age: You're as young as the man you feel!
Location: Surrey, UK
Social media accounts: Twitter | Instagram | Frisk | Snapchat: tmcgeexx
Welcome to Man On, Sascha! You've dominated our timelines for a while now, but when did you start modelling?
I started in 2013, back in the good old days when all the lads' mags were still running and you could get your tits out in the papers!
Halcyon days indeed! How did you get into it?
I always used to steal my brother's lads mags and wished I could look like the girls in them. Then in 2013 I entered a competition to become a covergirl for one of the magazines, and from there my social media exploded!
You have almost 200,000 followers between your Twitter and Instagram. What's the best thing about having a huge fanbase?
Being able to interact with thousands of people from all over the world at the touch of a button. It's amazing and I'm lucky enough to have been able to make social media my full-time job! Oh, and being able to share all my half-naked pictures of course!
You co-own the new glamour fan platform Frisk. What makes it different from the others and why should people sign up?
No other fan site has a public "social media" style wall where you can see a preview of content before you subscribe! And on my private wall I post naughty content every day and I reply to all those very sexy DMs! Let's just say I'm very open-minded… what's not to love?!
Thanks for an EPIC WEEK on my Frisk guys! ????????

I have really felt the love and I'm glad you have been enjoying my new routine ???? pic.twitter.com/vA9QvAAWj1

— S a s c h a M c G e e (@MissTMCgee) April 18, 2020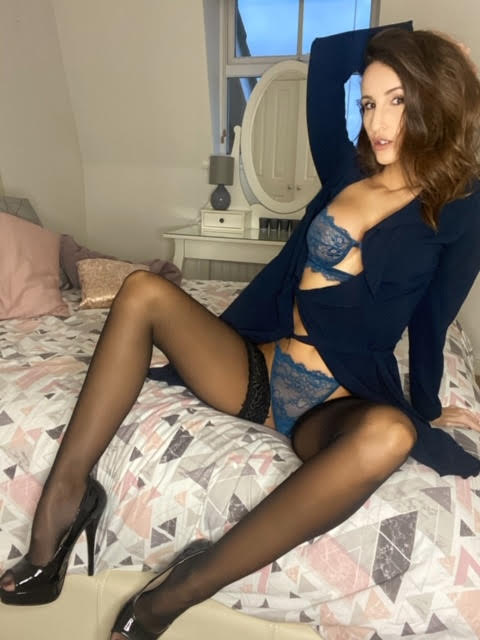 Sign us up! Outside of creating sexy content, what do you love doing in your spare time?
I spend most of it binge watching Netflix – I'm absolutely obsessed with Ozark at the moment. Everyone's got to watch it! And when I give the "next episode" button a rest, I'm out seeing friends. Well, I was when we weren't all in quarantine!
Ah yes, the joys of lockdown! What are you doing to keep yourself busy during it?
I'm spending all my time naked, shooting content and messaging my fans. Maybe lockdown isn't so bad after all!
My work outfit for the day ???? #workworkwork #worksuit #happiestnaked pic.twitter.com/wXmBOiVEpE

— S a s c h a M c G e e (@MissTMCgee) April 14, 2020
It sounds good to us, Sascha! So, what's the first thing you'll do once all this blows over?
Hopefully I'll be hitting Ibiza! I'm booked for June so my fingers are crossed for that to happen. But if it doesn't, I just wanna go and dance to house music with my friends, with my eyes closed and arms in the air!
Sascha McGee's quickfire Q&A
Favourite drink: Pepsi Max / Apple Martini
Favourite food: Pizza
Favourite film: Bridesmaids
Favourite TV show: American Horror Story
Favourite holiday destination: Ibiza
Biggest celebrity crush: Zac Efron / Kendal Jenner
Join me on the naughty side… ???? pic.twitter.com/TyLB8mlYS9

— S a s c h a M c G e e (@MissTMCgee) April 14, 2020
Can't sleep?? Maybe you should go watch the 7 min extended version of this…

Can't promise that it won't keep you up longer though ???????? #humpday pic.twitter.com/N3IiB0klzT

— S a s c h a M c G e e (@MissTMCgee) April 8, 2020
See much more of Sascha by signing up to her Frisk profile!