A 32E English rose who enjoys nothing more than stripping naked in front of the camera before relaxing in front of the PlayStation.
It sounds too good to be true, right?
Well, we're here to tell you that this mythical dream woman absolutely does exist – and her name is Jen Loveheart!
Without meaning to sound like Troy McClure, you may recognise Jen from her unforgettable appearances on #ManOnTwitties, as well as regularly starring on our @ManOnToday Twitter feed.
We thought it was about time we all got to know the brilliantly busty Jen a little better. And so we sat down with her to talk all things boobs, dogs, and gaming – whilst enjoying her truly incredible strip shoot!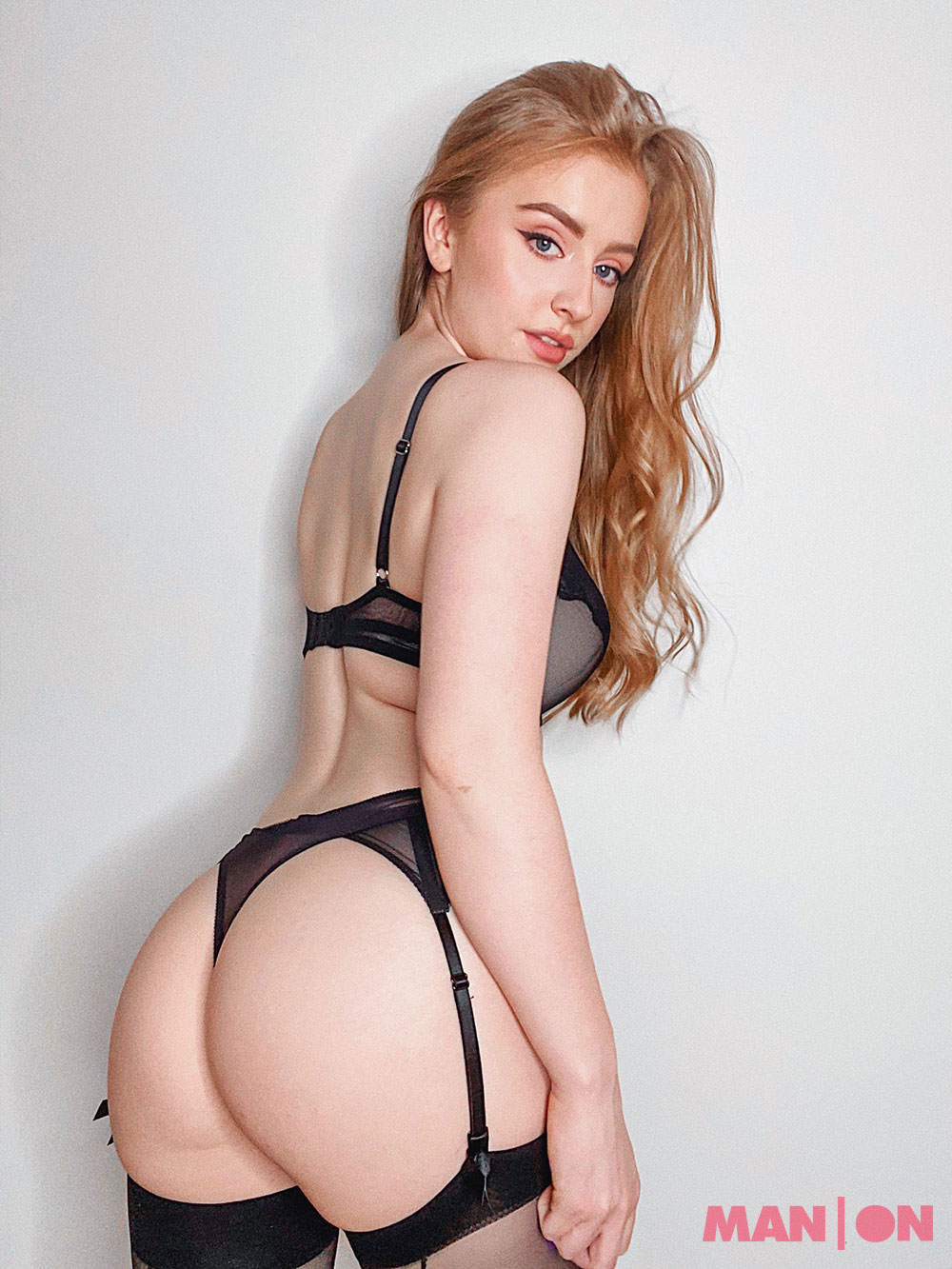 Vital Statistics
Name: Jen Loveheart
Age: 23
Bra size: 32E
Location: Liverpool
Social media links: OnlyFans | Instagram | Twitter | TikTok
Hi Jen, and welcome to Man On! Tell us how you first got into modelling?
Thank you for having me! Well, for some reason I've always been more confident when I'm half-naked – or even better, completely naked! So I started an Instagram page with me in my lingerie. Then I started to get recognised by photographers and agents, and it took off from there!
Brilliant work! What's the best thing about being a redhead?
I feel like some people expect me to be more innocent as a redhead… so I like to shock them when they find out I'm definitely not!
You're always a favourite on #ManOnTwitties. How does it feel being a Twitties legend?
I'm so grateful that you all believe in me and enjoy my content! It really means a lot to me. I can't believe I used to be so insecure as a teenager compared to where I am now. It's wild!
We noticed you're a big gamer. How did you get into it?
I got my first PlayStation when I was six years old, and I've loved it ever since. Back then my favourites were Tekken, SSX3, and The Simpsons Hit & Run!
Nice! What are you playing at the moment?
I played a lot of Warzone during lockdown last year, but now my current favourite is Red Dead Redemption 2. I could play it for hours and hours, so I have to have some self-control every time I switch it on! Haha! Of course GTA V will always be up there too!
Why should people sign up to your OnlyFans?
I'm a completely natural, busty strawberry blonde with a peachy bum! What more can I say? Haha! You can expect to see a lot of stockings and suspenders, roleplay outfits, shower and bath videos, stripteases and twerking! I also do custom content for people, so don't hesitate to ask once you've subscribed!
Sounds amazing! So, what keeps you busy when you're not in front of the camera?
Obviously gaming! But aside from that I like to keep active and fit, reading mindful books and cooking – I love food! I'm also a proud dog mum to a little Shorkie called Teddy, so he takes up some of my time when I walk him and play with him!
Lovely stuff. What's the first thing you'll do when lockdown ends?
Go on holiday! I can't wait! I'm thinking Dubai or Bali – so long as I can whack out my bikini collection, I'll be happy…
Until then, have you got any Netflix recommendations for us?
I've been watching Disenchantment recently. It's hilarious!
We'll add it to our list! Lastly, if someone dropped £1m into your bank account right now, what's the first thing you would do?
I would say go on holiday, but seeing as we can't right now, I'd buy myself a cottage in the countryside! So long as it has a hot tub I can have some fun in, anyway…
Jen Loveheart's quickfire Q&A
Favourite drink: Green tea (I'm a granny, I know).
Favourite food: Veggie burger, tofu katsu curry or pad thai… I can't pick!
Favourite film: Kill Bill.
Favourite TV show: Broad City.
Favourite holiday destination: Jamaica.
Biggest celebrity crush: Tom Hardy.
Lingerie or bikini: Lingerie.
Fast or slow: Fast!