Being able to legitimately say you're living the dream is something few have the privilege to be able to do.
Fortunately for pocket rocket Emilie-Rae, she can do exactly that.
"I'd always wanted to be one of the pretty girls in the lads' magazines," she states in our interview. Fast forward a few years, and the 32DD beauty is a star on TV, social media and #ManOnTwitties – of which she was crowned our joint week two winner.
So, as is customary with all our #ManOnTwitties victors, we pulled up a digital pew (stay home and save lives, chaps!) for an exclusive chinwag with the West Sussex stunner. Scroll down to see the chat in full alongside 28 of her hottest pictures and videos ever…
Emilie-Rae fact file and interview
Name: Emilie-Rae
Age: 26
Bra size: 32DD
Location: West Sussex
Social media accounts: Twitter | Instagram | AdmireMe
Hello there, Emilie-Rae! We're delighted to have you. First and foremost, congratulations on your #ManOnTwitties victory.
Thank you! It's a genuine honour that my thigh highs and titties have proved to be so popular with everyone. Haha!
Thigh Highs and Titties #ManOnTwitties #tittytuesday pic.twitter.com/rP1PwH44jG

— ✖️ EMILIE-RAE ✖️ (@EmilieRaex) April 28, 2020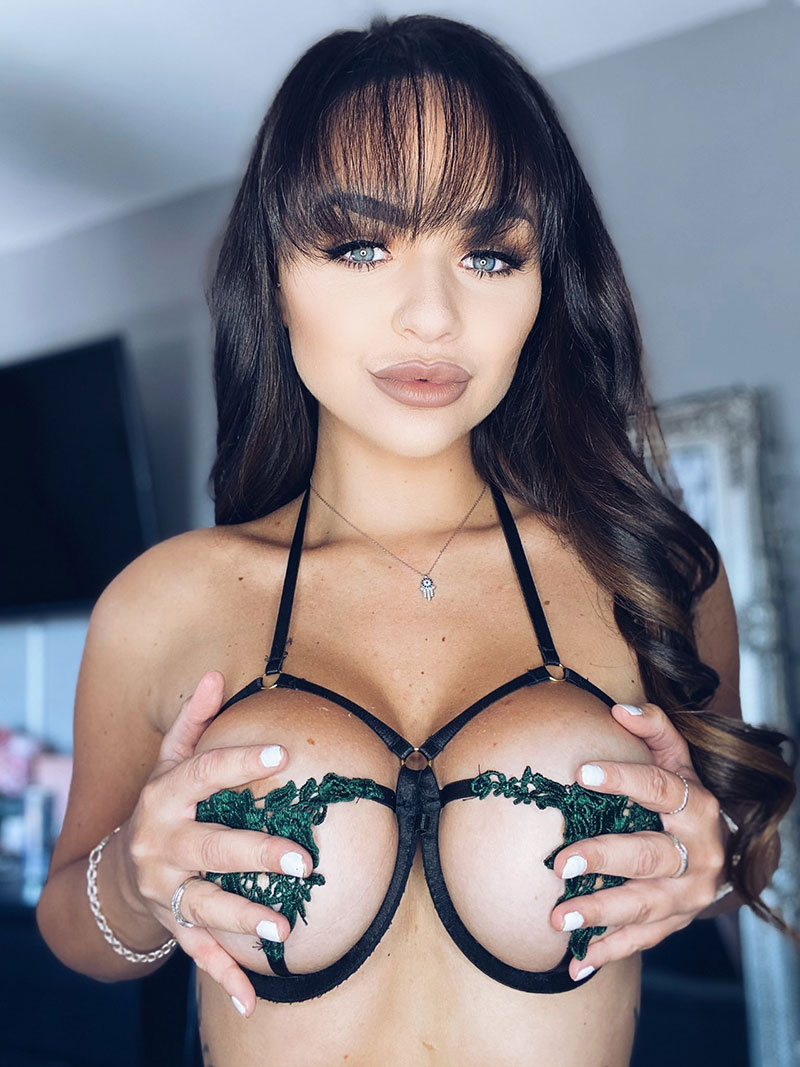 How did you first get into modelling?
I just fell into it. I'd always wanted to be one of the pretty girls in the lads' magazines that my brother read… that must have influenced me in some way! Haha! I actually started creating content a little over two years ago, back in April 2018, then went into the adult TV channels later that year. It's all snowballed from there really: I got approached by a few photographers and I've now been professionally modelling for a year. I love it so much!
You have racked up almost 100,000 followers between your social media pages in that time. That's amazing!
I know, right? I absolutely LOVE my fans – they're just so supportive, so kind, and really make the job enjoyable worthwhile. I truly appreciate the fact that I wouldn't be where I am without them, and I am honestly so grateful to them for everything.
Your fans can get in touch with you directly on your hugely popular AdmireMe. What can those who haven't signed up expect?
Ooh, great question! Well, a lot more of what they like: me! Haha! I try to cater to as many different audiences as I can. I love what I do and I'm versatile with it – it's so important to have fun and bring your personality across in videos and pictures. It makes the content much more enjoyable to shoot and look at, and that's what my AdmireMe is all about.
What adult channels can people tune into to see you?
I work on the adult channel Studio66 during both day and night shows. I love Studio66 – they've helped me massively over the years, working with the photographers and helping me create my own content.
OK, that's enough work chat for now! What do you love doing in your spare time?
Two things: walking my dog and drinking in the pub! Fortunately living in the country lets me do both as much as I want – it keeps me sane.
What are you watching on Netflix at the moment?
Grace & Frankie! It's hilarious! Generally speaking I find it hard to get into a good series, but I'm a sucker for a murder documentary, I must admit.
We on the same page, you know there's nothing in the way babe… pic.twitter.com/SmPP5ccp1G

— ✖️ EMILIE-RAE ✖️ (@EmilieRaex) May 6, 2020
Who's hungry ???? pic.twitter.com/LxrwoxkqBQ

— ✖️ EMILIE-RAE ✖️ (@EmilieRaex) April 17, 2020
What are you doing to keep yourself busy in lockdown?
Work! I'm still working in front of the camera, both for Studio66 and my own pages. Outside of that, lots of dog walks. I actually think this lockdown has been a blessing in disguise for some, giving us some time to think and reflect. That's definitely been the case for me.
All alone in the glass house. pic.twitter.com/vYHV4E8xS3

— ✖️ EMILIE-RAE ✖️ (@EmilieRaex) May 3, 2020
Breakfast Lunch & Dinner –
I'm a whole snack. pic.twitter.com/YeBD42xcKb

— ✖️ EMILIE-RAE ✖️ (@EmilieRaex) May 5, 2020
— ✖️ EMILIE-RAE ✖️ (@EmilieRaex) April 30, 2020
And finally, what's the first thing you'll do once lockdown is over?
I will be getting a McDonald's then straight to the pub to see my friends and talk about all the nothings I've been up to. I cannot wait!
H A P P Y • T I T T Y • T U E S D A Y pic.twitter.com/nFRwLs5Q9e

— ✖️ EMILIE-RAE ✖️ (@EmilieRaex) May 5, 2020
Face // Booty pic.twitter.com/bLiim82tLK

— ✖️ EMILIE-RAE ✖️ (@EmilieRaex) April 1, 2020
Emilie-Rae's quickfire Q&A
Favourite drink: Definitely Prosecco!
Favourite food: Bacon double cheeseburger from GBK or Five Guys!
Favourite film: Moulin Rouge or The Wolf Of Wall Street
Favourite TV show: Jane the Virgin.
Favourite holiday destination: I love the sun, so I'd say Miami or Dubai. I really want to go to the Philippines and South America too.
Biggest celebrity crush: I adore Margot Robbie and Leonardo Di Caprio.
Goodnight pic.twitter.com/RsdZ7jESeW

— ✖️ EMILIE-RAE ✖️ (@EmilieRaex) April 25, 2020